BALD EAGLE INTERPRETIVE PROGRAM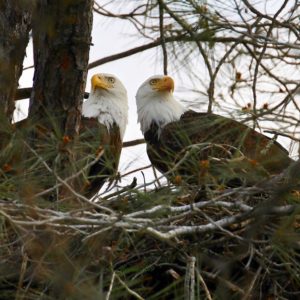 We are lucky to have a pair of bald eagles that call our park their home. They have been
actively monitored since 2017, and FOLFAN has been part of that effort!

The Bureau of Reclamation, in compliance with their permit from US Fish and Wildlife
Service, has an official monitor who watches the eagles and their nest throughout the
nesting season – from nest reconstruction and courting beginning in November, to egg
laying in February, through fledglings leaving the area in July. The monitor is observing
behavior of the adults, as well as the developmental stages of the young and reporting
back to the Bureau. In support of this requirement, FOLFAN has a group of Bald Eagle
Docents who assist the Bureau's monitor.
Given the popularity of the eagles, FOLFAN has broadened our docent monitoring
program into an interpretive program so that we can offer educational outreach to the
public, teaching people about the eagles and helping people who want to see the eagles
make informed decisions about how best to do so in a safe and respectful manner. The
goal is to ensure the birds are not harmed or harassed, and that they continue to use
their nest and raise healthy young.